Archive
Founded in 1962, the Leipziger Synagogalchor under the direction of Werner Sander gave its first concerts on May 12 and 15, 1963 in the Dresden Synagogue Fiedlerstrasse and in the Leipzig Congress Hall (still named as "The reinforced Synagogue Choir"). Under the title "Jewish liturgical singing in the change of the style epochs" choral works from the 17th to the 20th century by Salomone Rossi, Salomon Sulzer, Samuel Naumbourg, Louis Lewandowski and Samuel Alman were heard. The West Berlin cantor Leo Roth (tenor) acted as lead singer alongside the soprano Eva-Maria Straussová and the baritone Peter Zacher, while Herbert Schmidt from the Dresden Music Academy played the organ. The concerts are documented in program booklets that have survived in the choir archive.
Such data and documents from 60 years of choral life can now be researched, browsed through and evaluated with the help of the musiconn.performance and sachsen.digital portals, both of which are maintained by the Saxon State Library ‒ Dresden State and University Library (SLUB).
The information from all the materials available in the choir archive (programs, posters, announcements, advertisements, invitations, reviews) from around 800 events was entered into the performance portal musiconn.performance according to specific categories, as locations, occasions, participants, organizers, work titles, and composers. Thanks to the digitization program for science and culture of the Free State of Saxony sachsen.digital, all programs, posters, invitations and flyers, around 700 objects, were digitized. In the entries of the events at musiconn.performance, both portals are linked with each other, the digital copies can also be accessed there, supplemented by images of the posters held by the Leipzig Museum of City History.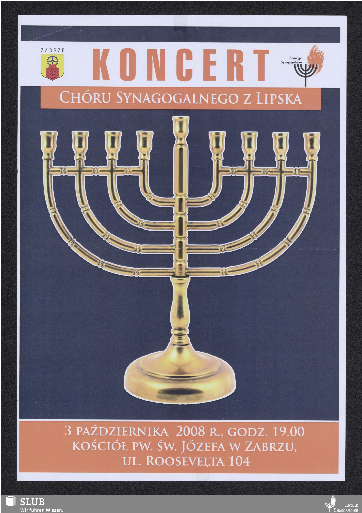 Source: Archive Leipziger Synagogalchor
The resulting digital choral archive of the Leipziger Synagogalchor illustrates the range of the Jewish repertoire and the performances at commemorative and celebratory events, receptions, musically-literary evenings, church services, concerts and outstanding projects in Germany and abroad across 60 decades, in an impressive and entertaining way. Some posters are examples of design art, names of singers and venues create aha and oh yes effects, composers and their works are brought out of the drawer to the light.
The entire project on both portals offers a research basis for depicting the cultivation of Jewish music in the GDR and in Germany after 1990. We cordially invite you to browse and research!
If you have or find any historical material about the Leipziger Synagogalchor or about Werner Sander that we do not have, we would be grateful if you could let us know and, ideally, if it could be placed in our archive.
Links auf zusätzliche Funktionen und Kontaktinformationen überspringen