Samuel Lampel on CD
On June 23, 2023 our new CD will be released in stores worldwide. "SAMUEL LAMPEL Evening Prayer for Shabbat (Leipzig 1928)" was recorded in St. Thomas Church in Leipzig and produced by the Leipzig label Rondeau.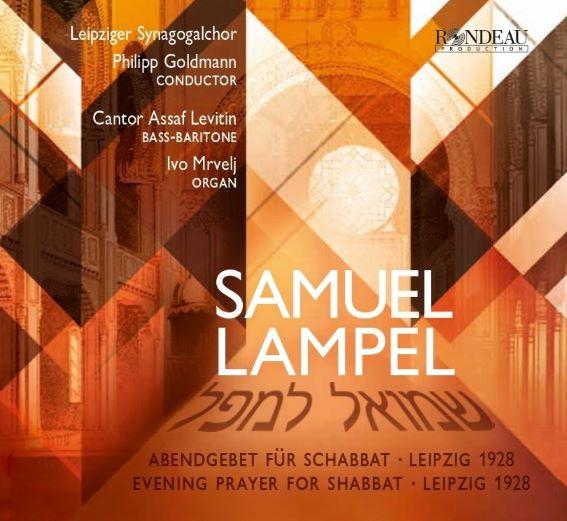 The CD documents a hitherto largely unknown part of Leipzig's music history: Lampel, from 1914 to 1938 cantor at the liberal Great Community Synagogue in Leipzig's Gottschedstrasse, had published the volume "Kol Sh'muel [Samuel's Voice]" in 1928 by the publisher M. W. Kauffmann. It contains 57 liturgical compositions and arrangements for mixed choir, cantor and organ.
From these works, together with cantor Assaf Levitin, we have selected the part intended for the Shabbat service, 19 pieces from the introductory "Mah tauwu" to the opening song "Adaun aulom", including the lively strophic song "L'cho daudi" to welcome the Shabbat, dramatic psalm settings, monophonic congregational chants and haunting prayers. Lampel's works are based on the traditional rite, but also dare to break out into the modern age, which bears witness to his compositional ambition and his musical ability. The lyrics have been left in their original form and are heard in the contemporary local form of Ashkenazi Hebrew. Lampel's touching German "Segen" forms the end, it also comes from the volume "Kol Sh'muel". We often end our concerts with this piece.
Assaf Levitin, Chazzan of the Hamburg Reform Synagogue, has taken over the extensive cantor's part. Ivo Mrvelj, assistant organist at St. Thomas Church, plays the Sauer organ. Lampel's place of work, the synagogue in Gottschedstraße, which was only a few meters away from St. Thomas and which today is commemorated by a monument, also had an instrument set up by the Sauer company. Samuel Lampel did not survive the Shoah, in 1942 he was deported "to the East". His works fell into oblivion, apart from a few performances of several pieces, in particular by the Leipziger Synagogalchor. With the CD, which honors his work, we give "Samuel's Voice" new strength and a new sound.
SAMUEL LAMPEL Evening Prayer for Shabbat (Leipzig 1928)
Assaf Levitin, bass-baritone
Ivo Mrvelj, organ
Leipziger Synagogalchor
Conductor: Philipp Goldmann
Booklet: German, English with introductory texts by Dr. Thomas Schinköth and Assaf Levitin, illustrations and lyrics
Total playing time: 62:59
Rondeau Production GmbH, CD ROP6250

About Samuel Lampel
Samuel Lampel was born on February 3, 1884 in Berlin, he grew up with foster parents in Berlin's Scheunenviertel. In 1895, a charity funded his admission to the Ahlem Israelitic Educational Institution near Hanover. After attending school and training at the teachers' college, Lampel worked as a teacher in Ahlem from 1904 to 1914, where he also conducted the school choir. His musical mentor became the cantor of the synagogue community in Hanover, music teacher and composer Alfred Rose (1855-1919), who inspired Lampel's first compositions.
In 1914, Lampel was employed in Leipzig as a music teacher at the Higher Jewish School (Ephraim Carlebach School) and as a cantor at the liberal Great Community Synagogue on Gottschedstrasse. In 1920 he was appointed main cantor and in 1927 senior cantor. In 1928 he published part of his compositions, a collection of 57 liturgical songs for cantor, mixed choir and organ, under the title Kol Sh'muel ("Samuel's Voice"). Together with the choirmaster Barnet Licht (1874-1951) and the second cantor Max Jaffé (1887-1942), Lampel organized guided tours, lectures and concerts in the synagogue. From around 1926 onwards he made synagogue music programs for the broadcaster Mitteldeutsche Rundfunk AG (MIRAG). Some of his articles accompanying the broadcast were printed in the community bulletin of the Israelitic Religious Community in Leipzig.
After the destruction of the Great Community Synagogue in November 1938, Lampel worked as a cantor until June 1942 and - after the arrest resp. the escape of the community rabbis – also as rabbi at the Brody synagogue on Keilstraße, which had survived as part of a residential building and was reconsecrated in April 1939. Until the end of June 1942 he also taught at the Carlebach School.
On July 13, 1942, Samuel Lampel and his wife Rosa were deported "to the East" along with around 170 other Jews from Leipzig. Nothing is known about their further fate, they were probably murdered in Auschwitz.
Links auf zusätzliche Funktionen und Kontaktinformationen überspringen